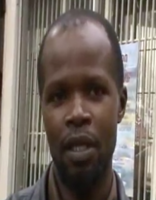 Thirty-eight year-old Mathias Tusiime is one whose love for fine Art is overwhelming. Tusiime started working as a janitor at the Margaret Trowell School of industrial and fine arts Makerere University in 1999.
Tusiime has attended APEXart and University of Florida programs and has taught seminars in the USA on art therapy. He is a founding member of Uganda Art Consortium.
Ed.: Most of Ugandart's creative members have more than one vocation. Purchases via this site help support their professional and charitable activities.