About Uganda Art Consortium
Who We Are
Uganda Online Art Consortium is a community of artists in and around Kampala. Net proceeds of sales from this site are shared by the artists and by programs offering art training for children and therapeutic art activities at regional AIDS hospitals. Donations are welcome.

Each participating Ugandart artist's profile can contain a biography and personal news along with (coming in late 2018) an online portfolio or body of work, plus linkages to other sites associated with the artist.
What we do & how we got started
The Uganda Online Art Consortium provides art therapy for HIV-AIDS patients and free children's art workshops in Uganda. We finance these activities by selling artwork by established and emerging Ugandan artists who are members of the Consortium.
Several of our member artists are widely known and respected in Uganda, and several have exhibited abroad. We also have welcomed talented emerging artists into our group. We offer original, contemporary Ugandan
artwork
for sale on our website, including paintings, textiles, sculpture, beadwork, and jewelry. We hold periodic public exhibitions and sales of work by our member artists and patients and children in our workshops, publish artistic calendars, and work to introduce contemporary Ugandan art to a broad international audience.
Uganda Online Art Consortium was started by
Tom Herriman
and
Rees Clark
in 2008 after Tom visited Uganda in 2007-08. Founding artists in the group included James Nsamba, Kizito Fred Kakinda, Hassan Mukiibi, Mathias Tusiime, Kaspa Kasambeko, Charles Mbaziira. Ivan Muganga, Moses Kiganda and Yusuf Ssali. The artist-members of Uganda Art Consortium work in a variety of jobs including teaching, music performance, and commercial art and design.
The
artists
in Uganda Art Consortium volunteer their time to provide art therapy for HIV-AIDS patients, children orphaned by AIDS, street children, hospital patients and psychiatric patients. When you buy art from ugandart.com, you are directly supporting this work. Administrative and web servicing costs average under fifteen percent of our sales income. Half of the net income from sales of professional work is paid to the artists; half the remainder from professional sales plus income from donations and events goes to support the programs for children and hospital patients, including buying paint, canvas and other supplies for hospital art therapy sessions and childrens' workshops.
Our Parent, Kisa Foundation USA
Kisa Foundation USA is a non-profit organization which makes grants and loans for projects in Uganda in the areas of education, health, community media, arts, and small business start-ups. Uganda Art Consortium is Kisa's first and largest project.
Kisa Foundation USA and Ugandart were founded in 2010 by Tom Herriman and Gretchen Donart with the help of Llwanga Llwanga, a long time advocate and benefactor of Ugandan children. Tom is President of the Foundation and Gretchen is Vice President. Llwanga is Chairman Emeritus of the Board of Directors.
More about Kisa Foundation
Our Advisory Board

Rev. Graylan Hagler

Senior Minister of Plymouth Congregational United Church of Christ, Washington, D.C., and National President of Ministers for Racial, Social and Economic Justice.
Under Hagler's leadership, Plymouth Church established an HIV-AIDS Ministry to promote education, support and understanding about the world-wide HIV-AIDS epidemic.
Amy Hagopian

Assistant Professor, Global Health, University of Washington.
Amy teaches community development, evaluation, policy and international health. She has conducted research in Uganda on health workforce issues.
Rosebell Kirungi
Third Secretary, Ugandan embassy, Washington D.C.
Venny Nakazibwe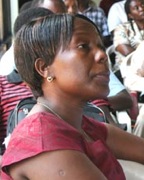 Dean, Margaret Trowell School of Industrial and Fine Arts, Makerere University.
Dean Nakazibwe is a strong advocate of using arts in health care. She was a principal organizer of the first Arts in Health Care Conference held at Makerere University in October 2012, and co-sponsored by Uganda Arts Consortium.
Jill Sonke
Director, Center for the Arts in Healthcare Research and Education, University of Florida.
Under Jill's leadership, the first East Africa Conference on Arts in Health Care was held in Kigali Rwanda in 2010.
Jackie L. McRath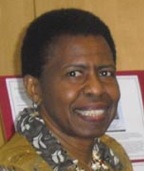 Board Member of AAPI Micro-lending in Nigeria, and has been curator for Theresa-India Young, Fiber Artist, and Chair, Theresa-India Young Scholarship Committee.
Jackie has been active in curating and promoting African art in the Boston area for several years. She established a sister school relationship between Madison Park Vo/Tech high school (where she was a teacher) and a high school in Dundee, South Africa.
Jackie helped put together Uganda Art Consortium's exhibition at Arnheim Gallery in Boston in 2012, and she organized workshops and a reception for Mathis Tusiime when he visited Boston in 2013.