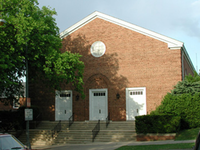 Plymouth Congregational United Church of Christ in Northwest Washington DC has graciously allowed us to stage our first exhibition of 2013 in their community room January 23-27. Plymouth Church shares with Uganda Art Consortium the goal of alleviating the suffering of HIV-AIDS victims. Plymouth's mission statement says, "We live for a world free of HIV&AIDS, void of the stigma associated with the disease and absent any discrimination in prevention, treatment, and care to those affected and infected with the virus."
The Exhibition will feature several works created by patients taking part in our art therapy programs at Mulago Hospital. We'll also have a broad selection of the bright, bold artwork of children from our kids workshops. Plus, we'll have work by the established artists who have donated their time, talent and money to bring art experience to thousands of children and hospital patients in Uganda.
This event has ended.
Exhibition Schedule:
Wednesday January 23, 2011, opening reception, 5-8 PM
Thursday Jan. 24 through Saturday Jan. 26, 11 AM to 5 PM
Sunday Jan. 27, 1-5 PM