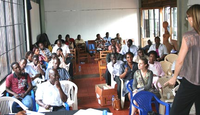 Report By Mathias Tusiime
Over 50 Uganda art teachers and practitioners attended a workshop on Using Arts in Health Care October 5th and 6th, at the Makerere University art Gallery in Kampala. The conference was sponsored jointly by Uganda Art Consortium and the Margaret Trowell School of Industrial and Fine Art at Makerere University.

Click for more conference photos
The main objective of the consultative workshop was to enable artists who are involved in art and health related issues to come together in a round table to exchange ideas and experiences for using art therapy and teaching as important part of medical care and healing.
The presenters included Dr.Nabulime Lillian, Professor Kwesiga Philip, Mr. Sserunkuuma Bruno, Dr. Nakazibwe Venny, Ms Kekimuli Joan, Mr. James Nsamba, Mr. Fred Kizito Kakinda, Agnes Apio, Kagwa Charles from Nkumba University, Dr.Kizito Kasule from Nagenda International Academy of Arts and Design (NIAAD), Hassan Mukiibi from the UGANDA Arts Consortium and Mr.Banga Simon among others. Several doctors and administrators from Mulago Infectious Disease Institute (IDI) also shared their experiences.
Keynote speaker for the Conference was Jill Sonke, Director of the Center for Arts in Healthcare Research and Education, University of Florida.
My experience during the two-day consultative workshop was one of great respect for the new and interesting ideas and concepts I learned from the presenters.
The turn out of those invited for the works shop was very good, actually it exceeded my expectations. The presentations were engaging, and many presenters used power point and other visual aids.
Much of the material at the conference was focused on orphans and single parent families…the groups in our society with the most serious health challenges. Over 2 million children in Uganda have lost one or both parents. These children and single mothers are usually living in poverty and suffer more than their share of disease due to poor nutrition, unsanitary conditions and lack of preventive care. The conference strengthened my personal goal which is to enrich the lives of these children and their families through art.
Some of the outstanding presentations for me were:
--Simon Banga, who talked about his work in Karamoja, helping young people overcome the traumas from decades of war.
--Dr Lillian Nabulime shared how art can be used as a tool for communication and counseling of HIV patients.
--Dr Apio Agnes explained how art can be used to speed the return-to-health of patients recovering from long illnesses.
--Charles Kagwa described the HIV-AIDS epidemic affecting women in the little fishing villages in Ssese Islands. Dr Kagwa is working to hold workshops in the Islands to help the women without sources of income to gain skills in the production of crafts that could be marketed both at local and international levels. Once these vulnerable women find a more stable source of income then they would not easily seek sexual favors from the fishermen and risk being infected with the HIV virus.
These are just a few of the unique programs going on in Uganda today that were shared at our conference. We have decided to hold a larger, more inclusive conference in 2013 where we will bring arts-in -health practitioners from all over East Africa, to share ideas and experiences in improving health through art.